Description
The Accuracii ML is a powerful day and night, multi-sensor observation system especially developed for security applications. It allows mid-range detection and observation using state of the art 17µ 640 x 480 thermal camera technology. The Accuracii ML features either a 15-100mm continuous zoom lens or a 45/135mm dual field of view lens for day and night vision and a 1/4" color CCD camera for daytime operation. Available in analog or IP configurations.
Features
Advanced, continuous zoom optics
High quality
Rugged design
Easy installation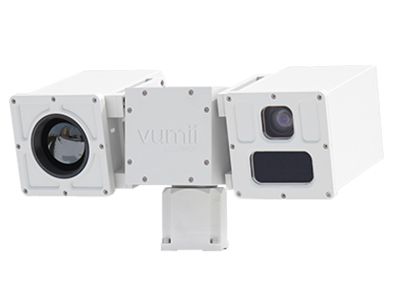 Configurations
Thermal Imager:
17μ: 640 x 480 (NTSC/PAL)
Thermal Optics:
Continuous zoom 15-100mm
Dual field of view 45/135mm (not continuous zoom)
Visible Imager:
1/4" color CCD camera
1/2" color HD CMOS camera
Visible Optics:
Continuous zoom 3.4 – 122.4mm (CCD)
Continuous zoom 4.6 – 138mm (CMOS)
Video Output:
Video Streaming (TCP/IP):
Multiple, configurable streams in H.264 and MJPEG
Additional Options:
Laser range finder
GPS
Fire detection
Analog or TCP/IP
Why Accuracii ML?
Accuracii ML allows for PTZ multi sensor observation combined with advanced motorized, continuous zoom optics.  For more information or a quote, contact us today.