Cerberus PRO – enjoy protecting
from small to large and
from standard to sophisticated.
The powerful control panels give a quick and comprehensive overview of all system messages. They are easy to operate and even offer remote access. The Cerberus PRO panels can stand alone or be networked into very large, complex networks using innovative LAN technology. The intelligent detector family of Cerberus PRO answers all requirements from clean to harsh environments. They also provide a solution for CO detection, independent from fire. In areas with deceptive phenomena, the sophisticated ASA detectors are the ideal choice: they ensure highly reliable detection and even prevent false alarms. Special detectors and peripheral devices complete the portfolio of Cerberus PRO.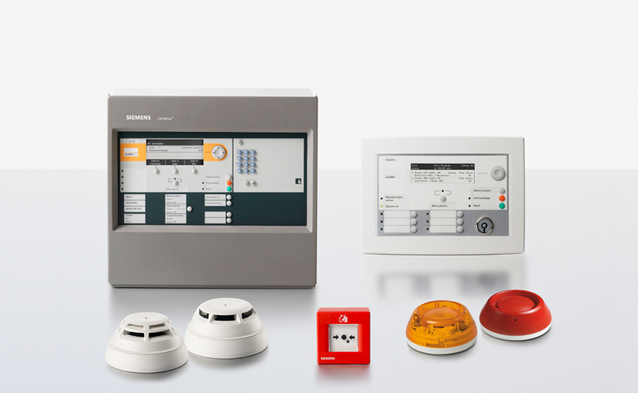 Highlights
The fire system overview graphic also depicts how the fire system components can be connected with each other:
C-NET – detector bus network for linking fire detectors and peripherals
The C-NET is a modern, multipurpose detector bus system that allows flexible planning and installation: all detectors and peripheral devices share the same loop. The C-NET devices of the fire system communicate and get their power supply directly via the C-NET – without additional cabling.
Cluster (C-WEB/SAFEDLINK) – network for linking panels and fire terminals
Up to 16 fire control panels and/or operator terminals can be networked in one cluster (C-WEB/SAFEDLINK) – if the fire system is connected to a danger management station. Without a danger management station, even 32 panels can be networked in one cluster.
Backbone (C-WEB/LAN) – LAN network for linking clusters
Up to 14 clusters with up to 16 panels each can be networked via an EN 54-approved fiber-optic backbone (C-WEB/LAN). Due to the backbone, Cerberus PRO can even depict highly complex building structures and organizational processes. This makes the backbone the ideal solution when planning a large and complex fire system for universities, for example, with buildings spread over an extensive campus.